One of my crafty resolutions for this year was to try to develop my design style. Maybe it was after doing so many Christmas critter cards but I felt like a lot of my designs were using the same techniques, and thus my cards were looking sorta similar. When I heard about Hero Arts starting a subscription for their monthly kits, I decided to try it out for a few months. It was kind of a crazy decision considering I'd never before bought a kit of theirs, or even owned many of their products outside of a few background and sentiment stamps. Add to that I hardly ever purchase items from America since I think shipping and import taxes/fees can be silly expensive. Well, so far I do not regret one second of my decision! If you live overseas I can personally say, the value is great. Shipping is only $9.99 (less is Euros) and once the kit is released, you have a few days to purchase any of the add-ons (or anything else in the store) for the special shipping rate THAT YOU ALREADY PAID!! Say what?! Can you tell how excited I am over here? 😀 In my experience so far, they are shipping the kit and add-ons separately which is perfectly fine by me since that brings down the amount of product in my package and therefore cheaper (or no) import fees. And, knock on wood, I haven't been flagged by customs to pay additional charges except for one month out of the past four months.
Now onto today's cards. These cards were made using materials from the My  Monthly Hero (MMH) April kit WHICH IS NOW SOLD OUT but add-ons are still available!! I'm hoping to provide inspiration for those of you lucky ones that purchased the kit. As usual, the kit was packed with loads of goodies which included various dress-up/paper doll looking stamps that were super girly and gave off an Audrey Hepburn vibe. There was also some lovely, shimmery coloured cardstock, coordinating dies, inks and more! When I first saw what the theme was during the preview week I wasn't overly thrilled I'm not gonna lie… mostly because I'm not really a girly, dress up sorta person (I prefer sweat pants and slippers.) BUT isn't that exactly what I was trying to do when I signed up for the subscription? Shake up my design aesthetic and break out of my comfort zone? 😉So I started playing around with it and wound up having so much fun with these designs…and I still have several more ideas using the kit.

For my first card, I wanted to create a real girly sort of a card and was inspired by the hot pink and black shimmer cardstock that came in the kit.  You can't see it overly well in the pictures, but I used a pale teal colour (that was very close in colour to the cardstock that came in the kit) for the oval background. First I stamped Hero Arts Dots Moire stamp onto (Bristol Smooth paper) in Versamark, then heat embossed with white embossing powder. Next, I scribbled a bit of green and blue Zig Real Brush onto my glass craft mat and mixed with a water brush. I diluted it quite a bit (so that the background didn't take away from the rest of the card) and gave a light wash over the dots and then used a stitched oval die to cut it out. I chose what outfit I wanted my girl to wear and stamped her out accordingly. I coloured in her hair and skin with more Zig Real Brush Markers and blended out with my water brush. I adhered my girl directly to the oval that I then popped up using foam tape.
To create the background, I used the black shimmer card that came in the kit and used a scallop border on one of the sides. I felt it needed something else, and wanted to tie in that pale blue so I used the gorgeous Nuvo drops that came in the kit. I felt like it was still a bit dark (and just wasn't really working for me) so I used a bit more of the pink card on the inside of the card which you can see a hint of when the card is on display. I wrapped a bit of pink and white twine around the left side to help balance things out then I popped both my lovely lady and the oval background onto foam tape and adhered to the card base. That's card one done!

The next card was super quick and simple to make and I just LOVE the way it turned out. I started by created a tri-fold card base by scoring an 8.5″ x 5.5″ piece of black cardstock and scoring on on the long side at 2 1/8″ and 4.25″.  I used some pretty patterned paper from my stash to add to each of the panels.
or the topper, I used two sizes from the same nesting oval die set (as used above) on a piece of Bristol Smooth cardstock and a larger size on watercolour card. I used the same Zig colours (I blended for the previous card) to create the ombre wash on the watercolour oval. On the smaller oval, I stamped the ballet shoe and painted in the legs and ballet slipper with diluted Zig markers and a water brush. You can see the difference in the colour of the two papers (and that drives me crazy) but I had already made the watercolour oval for use on a different card but ended up not using it. I thought it was pretty close to perfect tying in that Tiffany blue and adding a little sophistication to this sweet card.

This kit really has so much diversity. The precious tutu and ballet images are perfect for little girls, the capri pants in the dress up image is perfect for that hard to create for teen/college aged young lady, and the fantastic retro and glamorous dresses will have your mom ready to go dancing! I really have been enjoying these kits – and despite the late post, I have been using them!! I will try to get a bit more current but no promises! 🙂 Life happens sometimes and that will always be my priority. That's all I have for today. Thanks so much for stopping by!!
Well, that's all I have for today. Thanks so much for stopping by!!
See Y'all next time!
SUPPLIES
If you see any products below you'd like to use, I have listed them below using compensated affiliate links. I purchased all of the supplies on my own and I personally buy from the companies I've linked with. I do receive a small commission if you choose to purchase products by clicking on the links in the post at NO ADDITIONAL cost to you. I greatly appreciate your support.
Please note: not all supplies are available through my affiliate partners, so please scroll to the bottom to see the full supply list. US customers can click on the Simon Says Stamp or Amazon icons to purchase. There may be import and/or additional charges for European and non-US residents. Please read shipment and delivery terms carefully before purchasing. UK customers can click on the Amazon UK, Hobbycraft, or Crafter's Companion icons to purchase (when available).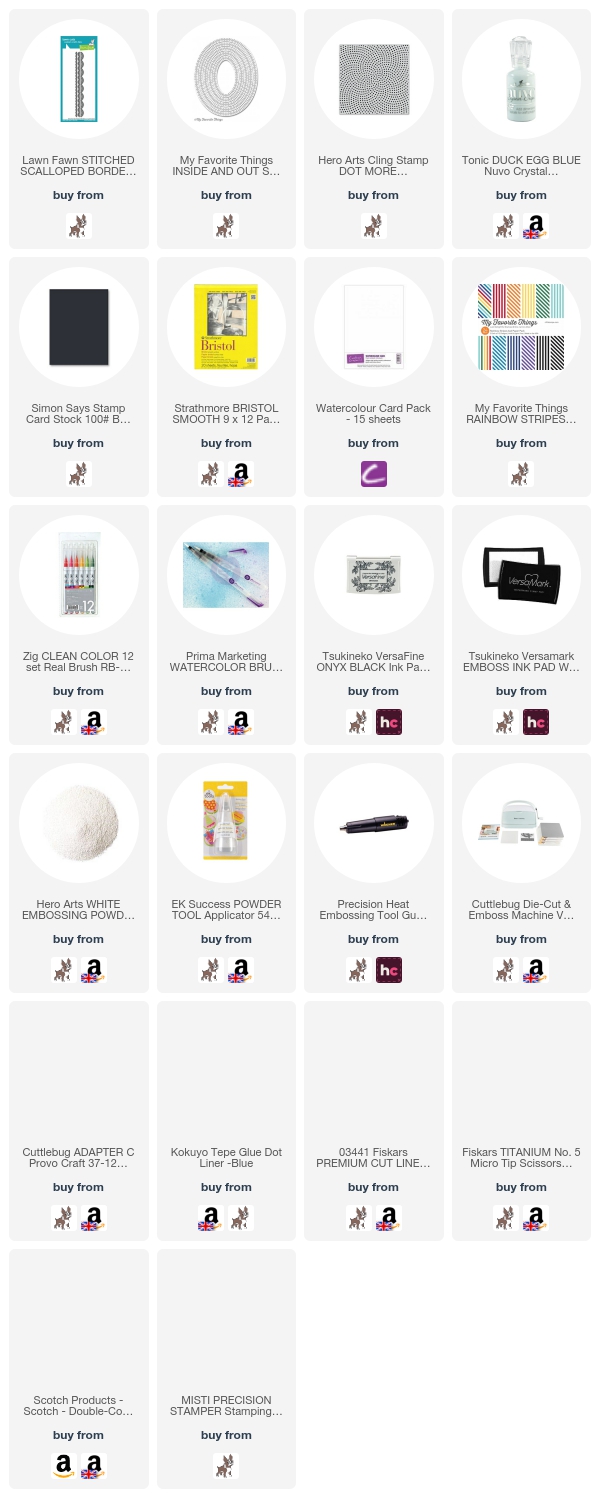 FULL SUPPLY LIST
Hero Arts: My Monthly Hero April Kit (SOLD OUT!), Dots Moire stamp, white embossing powder, Wagner Heat Tool
Lawn Fawn: Stitched Scallop Border die
My Favorite Things: Oval Inside/Out Stiched die, Rainbow Stripes 6×6 paper pack
Zig Clean Color Real Brush Markers: dress and ballet slipper = 025 pink; background wash = 031 cobalt blue & 040 green mixed; skin tones = 050 yellow & 070 orange mixed
Prima Marketing Inc.: Waterbrush
Nuvo: Crystal Drop in Duck Egg Blue
Lili of the Valley: Mr & Mrs 8×8 paper pad
Simon Says Stamp black card, Versamark Watermark Ink Pad, Versafine Onyx Black, 3M foam tape, Kukuyo Dot Liner, Fiskars Trimmer and Micro Precision Scissors, Pink Twine, Strathmore Bristol Smooth cardstock, Crafter's Companion watercolour paper, EK Success Powder Tool, bone folder, Misti, Cricut Cuttlebug machine